Sometimes when we're feeling stressed and overwhelmed with too much. …
… stuff
… disorder
… email
… things to do,
it's easy to forget that spending just a minute cleaning something up can make us feel a little more in control.
Getting organized doesn't always have to take a lot of time.
Really. It's true.
We underestimate the value of that precious 60 seconds. I mean, really …
What is a minute worth?
A minute can either pass quickly or slowly depending on what you're doing at the time.
But when it comes to getting stuff done, there are lots of things that can be done in just one minute.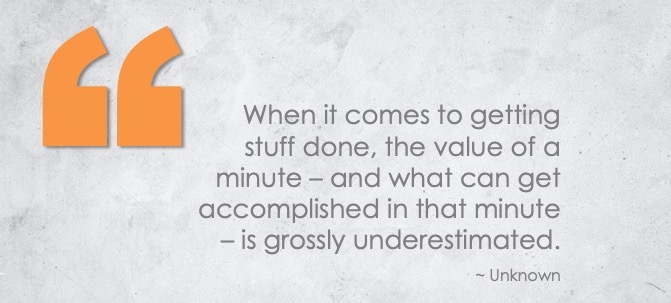 While it's true that some things do take longer to do than we think they will, many other things can be done in small increments of time. And those small things move you closer to getting stuff done and getting organized.
Here are a few ideas to get you started and back on track …
Put that loose paper away in its file
Put 5 files away in your filing drawer
Clear a spot on your desk to work on something
Throw something – anything – away
Collect all your loose sticky notes to process later
Call and make that appointment you've been putting off
Answer one email and delete the original
Make a file for those loose papers that belong together
Make a to-do list of 'must get done today' items
Then set a time limit for each of those items
Delegate something that could be better done by someone else
That should get some ideas flowing for you.
And here's one more for you: take a minute to acknowledge your efforts and celebrate your successes. No matter how small it is – it's worth celebrating.
Those small things will lead to HUGE results down the road.
I use this strategy all the time. When things get a bit hectic and my list of things-to-do seems overwhelming, I just start breaking it all down into tiny micro-pieces. I ask myself "what can I do quickly?" And then I just do it. I don't plan it. I don't analyze it. I don't agonize over it.
Before I know it, I'm back on track and able to focus on the big stuff.
Remember …
When you multiply tiny pieces of time with small increments of daily effort,  you can accomplish anything you want.
~ Author unknown
So, what can you do in 'just one minute' to accomplish what you want?
Do it now. Don't waste another minute. Get more done.
Now, get on with your day!