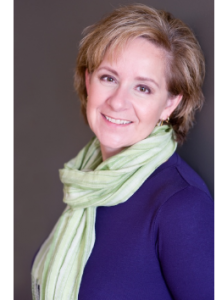 She is a fun, friendly, and creative Productivity Coach & Organizing Consultant at Smartworks! who shows you easy ways to get yourself organized – one pile at a time. She is a Certified Professional Organizer® – one of less than 12 in Canada!

Her background includes over 28 years in various administrative and office management functions, which was a great training ground for becoming organized. But that's not her 'claim to fame' – it's that she has struggled with organizing and time management herself.
"I love the idea of being organized and on top of things. That doesn't mean I've always been successful at it though.
For most of my life, I've struggled with managing my time, my space, and my paper/information. I can't honestly tell you I've got this licked yet … but I do work at it most of the time.
I've come to learn this is an ongoing process of learning, doing, adjusting … sometimes forgetting everything I've learned … and most importantly, never ever giving up. My life today is so different and much more balanced because I've figured out some simple ways to simplify my life, stay organized and get stuff done. I want to share this information with you.
I get how difficult this can all seem. I know the pain of that inner dialogue that's telling you to 'just get your act together,' or 'this isn't rocket science, why can't you just do it?' 
Let me assure you … there is nothing wrong with you. You just haven't learned it yet.
I believe your current state is just a dilemma that needs to be solved … it is not a character flaw. With a little bit of knowledge and a whole lot of support from me, I know you can become an 'expert' at being organized."
What else do you need to know about Georgina?
Has been operating her productivity and organizing business since 2001.

Certified Professional Organizer® with The Board of Certification for Professional Organizers – BCPO.

Certified Photo Manager with The Photo Managers


Member of Professional Organizers in Canada – POC.


Smartworks! adheres to a strict Code of Conduct & Ethics. You can rest easy that you are in the hands of a true professional.

Attained Gold Leaf status with POC. This designation recognizes 10 years of membership and service within the POC organization.

Volunteers in her professional association – current position: Program Lead for the National Conference Committee.

Regular participant in her local chapter's annual Calgary Gives Back organizing events

Recipient of the 2022 President's Award in recognition of exceptional and outstanding contribution to POC, and to the organizing profession.

What does this mean to you?
What this all means to you is that she takes her business seriously. She's spent more hours than she wants to admit to, educating herself on the myriad aspects of organizing and time management. She has an extensive resource library that has helped her become even better at what she does – and she shares this wealth of information with you.
Georgina has appeared on television and in print.
She also writes articles and organizing tips for magazines, publications, and websites.
Her passion for liberating people from the binds of disorganization and overwhelm is what Georgina has shared in her presentations, coaching, and writing.
Georgina lives near Red Deer, Alberta, and admits that sometimes her own productivity and time management slips a bit from time to time 🙂

For more information on how she can help you with your productivity needs …
Call Georgina Forrest at 403.615.4349 or email her today!
| | |
| --- | --- |
| | Georgina has been a regular contributor on Breakfast Television Calgary |
Save
Save
Save
Save
Save
Save
Save
Save