It doesn't matter what you do or where you work – everyone is looking for ways to be more productive. Almost to the point of obsession. But excessive amounts of caffeine and endless list-making isn't gonna get you any closer to reaching peak productivity levels.
So, why are we so obsessed with productivity?
It's probably because in this digital age, staying on task and avoiding distractions is harder to do than your actual work! Plus, that feeling of a productive workday can make one feel … heavenly.
Can you hear the angels singing?
The search for a more productive day has led to misconceptions about what productivity really is. It's a lot more than simply checking stuff off of your to-do list.
Truly productive people aren't focused on doing more stuff.
They make it a point to do less stuff.
Yup. True story.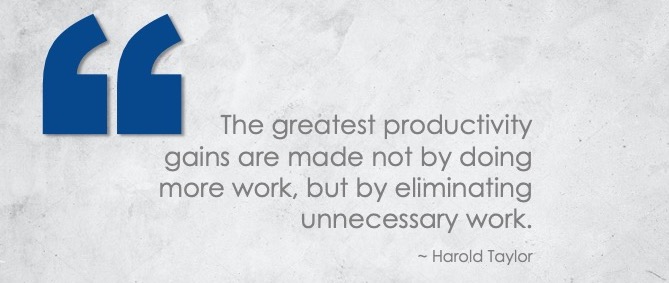 You can increase your productivity by putting these tips into play:
Cut your to-do list in half
Quit cramming your day with unrealistic amounts of tasks. Putting 15 things that need to get done today is a recipe for failure. Take the less-is-more approach to that list and focus on accomplishing stuff that really matters.
Take a break
As a matter of fact, take a few. Pushing yourself through that ache in your brain doesn't mean you're working at your best. Studies have proven over and over, that taking a replenishing break every 60 to 90 minutes brings you back recharged and ready to get 'er done.
Use the 80/20 rule
Typically, only 20% of what you do produces 80% of your results. Eliminate stuff that has a minimal effect on your overall productivity. For example, break your next project down into small tasks and steps, then systematically remove tasks until you end up with the 20% that nets the 80% results.
Delete vs Keep
Every email, every paper, every file you keep means that much more work to organize and be efficient in your busy workday. Change your "Keep" mindset to "Delete" (or toss). Assume that everything that comes your way will be tossed. Keep only the exceptional stuff.
Less is more when it comes to being productive during your workday.
Do less superfluous stuff … get more important stuff done.
Now, get on with your day.